As the year 2014 slowly fades from our memory, we'd like to reflect on what we've done together in the past year, how the data integration market behaved, as well as take a look at our plans and outlook for 2015.

Market growth
According to a Gartner estimate, the total available market for data integration in 2014 was $2.5 billion with an annual growth over 10% — above average for the enterprise software market. Moreover, Gartner and others have estimated the business analytics market is at about $20B per year, with a 30% growth rate. As the numbers show, it's clear the need to organize and manage data is growing strongly.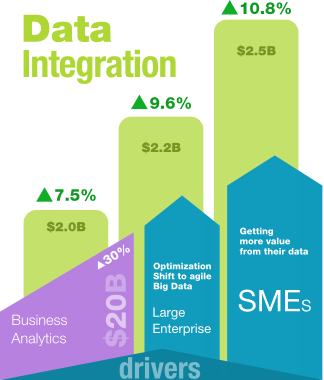 Another growth factor stems from the fact that data integration is required not only by big enterprises, but also by a massive need for it in Small & Medium Business (SMB) as well. SMBs also see the value of their data, both in terms of a valuable asset and a tool for better management of their processes and financials. This trend has created a great opportunity for CloverDX, as our software now allows them to join the ranks of any enterprise to process and move their data quickly on a reasonable budget.
CloverETL (Now CloverDX)
In 2014, CloverDX continued its growth that vastly exceeded the market norm, with record sales. The key to our performance was the depth of diversity, with growing regions, licenses, and new customers. On the services side, we saw commensurate growth as customers demanded better solutions and faster implementation.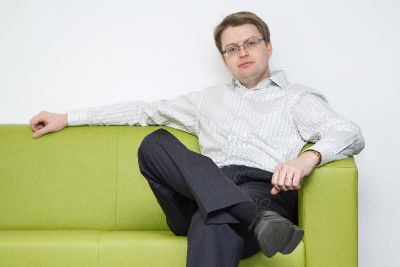 As David Pavlis, CEO of CloverDX, puts it, "Achieving this type of revenue mix is very important for us, because it creates a solid foundation for future growth. We depend on both the investment in our team's know-how and our software."
CloverDX's rapid approach to data integration has also proved its value in the world of agile business intelligence and analytics. We forged a technical partnership with Tableau Software. This partnership resulted in native support for Tableau in CloverDX and our visit at Tableau conferences in Hague, London, and Seattle. And most importantly, it also resulted in several successful implementations of a CloverDX - Tableau combination, the biggest being with EE, UK's largest mobile operator.
CloverDX
In 2014, we published two major releases of CloverDX. During 2014, we worked towards release of CloverDX 4.0, which was released in November 2014. This release was a huge generational leap, focusing heavily on subgraphs, a new concept that allows ETL developers to package complex data integration processes into reusable components while retaining a great degree of configurability and runtime performance.
"We designated the November release 4.0, as it represents a new generation of CloverDX technology," says Michal Tomcanyi, CTO of CloverDX. "Towards creating subgraphs and rapid development, we decided to make several larger changes within CloverDX's internal architecture. Those changes then helped us to come up with new concepts such as metadata propagation."
In the beginning of the year, we released version 3.5, focusing on security and server manageability, introducing dedicated rule-based data validation components, and creating the Data Quality module. Because quality data is the best foundation for tight data integration, we decided to include this module as a standard part of all of our software products.
Plans for 2015
New versions of CloverDX
We have already planned two new versions of CloverDX coming this year, a new milestone version of CloverDX 4.1 in April 2015, followed by the production version in July 2015.
Version 4.1 is aimed at further simplifying subgraph development. In it, we are introducing new editors and optional ports for subgraphs. These changes will allow developers to design new ETL components with complex behavior and a friendly user interface, all without a single line of Java code.
New HTML tooltips in 4.1 will also simplify navigation in complex jobs (whether subgraphs or jobflows) and help to visualize the rules of metadata propagation. We also decided to redesign several older ETL components and sequences to simplify their use and increase performance.
For our Server products, expect improvements around security and password encryption, more control over peak processing handling, and simplified installation.
For the second half of 2015, we plan to release CloverDX 4.2. Our main goal is to introduce a tool, called the subgraph repository, to simplify management of subgraphs and their dependencies in ETL projects.
New offices
We are strengthening our office in the UK, so that we will be able to support our European customers directly from our London office, located in Hammersmith. In addition, we have established a presence in Frankfurt, Germany to meet the specific DACH demand. In the US, we are moving and growing our operations in Washington D.C. and later this year, we plan to open a new office on the West Coast.
All of these steps are focused on bringing CloverDX closer to our customers and improving our already highly-regarded support.
Although we've shared some insight into our future plans, you can be sure that we still have something up our sleeves. But whatever we bring to the table, you can be sure it will be inspired by our dedication to craftsmanship and innovation, which are part of our core values here at CloverDX.
2015 looks to be a very exciting year for both data integration and CloverDX, as we continue working together with our customers and partners, making CloverDX a better experience, and hopefully achieving another record-breaking year.