Michal Tomčányi shares a few personal stories about the times Data Quality issues have transcended IT systems and appeared in his daily life.
Duplicate telesales calls from my telco operator
Despite the fact that my mobile phone number has been registered under a corporate contract with preferred calling rates for more than three years now, it seems that this information has never made it to the company's telesales.
I get a call from them about once a month, pushing me to sign me up for a "significantly discounted calling rate" or claiming, "Your number won a huge discount in a lottery!" I've learned that asking if the discounted rate could really beat our corporate contract quickly ends the conversation.
I would like to speak to the marketing director, campaign manager, or the poor engineer tasked with preparing their cold call lists. Just filtering out the corporate numbers could save them so much time and major bucks on wasted calls. Instead, perhaps, they could even start calling corporate numbers with actual relevant content. For example, if I may suggest, a monthly report with a breakdown of cost per number, which we still must do ourselves as do many other corporate customers. Just an idea.

On the other hand, I should be grateful that they usually only call once a month. In March, they called me twice on the same day, just three hours apart! Two different agents located in two differences offices. That's what I call a real data duplication issue.
Broken contact information in your bank
If you're gifted with a "simple" surname like mine (Tomčányi), it always spells trouble. For one, US systems don't really like "funny" Central European characters. If you foolishly believe that UTF-8 is the standard today, just ask for some of my travel documents. So Michal Tomcanyi is the way it goes in the US. Not perfect, but definitely better than "Michal Tomèányi". I can't even read that.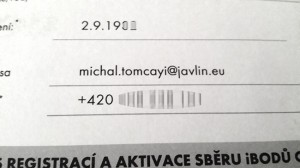 But that's not the main point I want to talk about today…
While my bank here in my home country usually stores and displays my surname correctly, they still manage to find other stuff to break. See the invitation I got last month to join their customer loyalty program.
Unfortunately, the email address is misspelled. And it's not the "yi" part, which even I admit is confusing!
Interestingly enough, I must have filled in that email address on at least three different forms. While the core banking system has my correct one (I double checked that in e-banking,) it seems once again the marketing people were fed bad data.
As I'm not a big fan of snail mail (don't get me started on the services of the Czech Post), this means no loyalty (program) for me as the registration lands in the spam folder on our mail server.
Goods that can't be bought
This one happened just last Friday. Desperately craving homemade spicy chicken wings, I wanted to quickly grab a small bottle of Tabasco Classic on my way home after work. Turned out to be harder than I thought.
When I brought the item to the cashier, he wasn't able to scan it. The culprit? Two different bar code stickers: the one on the bottle and another one on the shelf. Neither of them worked. The store must have changed the bar codes or pricing (as it's the end of month, I should have noticed) and Tabasco Classic was missing in the database.
It took 15 minutes of devoted teamwork to get it through. There I was, running across the mile-long hypermarket to the furthest shelf on the last aisle to take a picture of the bar code, then getting another item just to try to get the payment through. Eventually, the cashier called operations and was advised to enter the payment code for Tabasco Green instead. That solved it! Though it was touch and go for a while, I was able to have my spicy chicken wings after all. However, I do have a feeling that someone's sales and stock reports will come with a few minor "discrepancies" this month.