Sometimes you find something so cool at a trade show, it makes all the hassle of getting there worthwhile. This year at CeBit, I came across some fresh, compelling ideas in data and analytics, as opposed to the usual hype of "big" and outlandish.
The CeBit trade fair (www.cebit.de) in Germany is a massive, must-attend event. With more than 300,000 people moving around like a giant bee colony through near-infinite halls of exhibitions, it can be tough to navigate your way towards something meaningful. On the data side, vendors seem unsure about what exactly to say about data – only that it's big, difficult, and growing.
With that being said, I did end up finding something significant among it all. CODE_n, an international initiative for digital pioneers, innovators and groundbreaking startups, organized a major next gen analytics exhibition called CODE_n 14: "Driving the Data Revolution." (www.bigdata-startups.com/BigData-startup/code_n14-contest-searches-startups-driving-data-revolution)
CODE_n - Next Generation Analytics
CODE_n 14 in Hall 16 was like moving into a new dimension of time. There were more than 3,000 square meters of black space decked out with floor-to-ceiling representations of how next generation analytics and data can be visualized – from human brains and earth maps to relationships and vector vortices of possibilities. What's cool about CODE_n is the perspective it offers about the future and how we see our world through the new uses of data. We know it's big - no kidding - but the focus has shifted more to what it means: data can now power a reflexive look at both our planet and ourselves.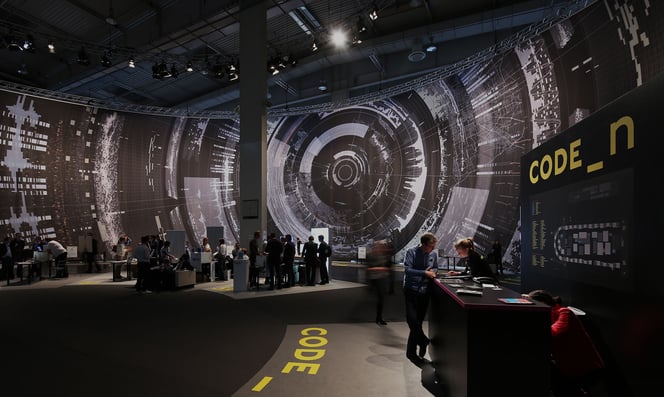 I definitely encourage you to read more about CODE_n here (www.code-n.org/about). Although I didn't get the chance to meet Ulrich Dienst, the initiator of it all, or Mark Smith of EY, I offer sincere congratulations to them on selecting a diverse, motivating group of companies, as well offering continued inspiration.
What's more, the design team of Clemens Weisshaar and Reed Kram is completely reshaping how we see ourselves through visualization. Check these guys out (www.kramweisshaar.com/projects/code-n). What you'll find is a vision turned into a "non-Internet, non-streaming video," true media experience all with the great art of visual design. Words can't describe the experience…. But data can.
Data – The Real Hidden Star
We know that behind every great star, CEO, or front-facing idea is an underlying foundation of support and inspiration. For CODE_n, it's all about the data. In a competition that received hundreds of entries, CODE_n picked the top 50. Interestingly enough, almost all 50 finalists shared the same belief: that without the data, there can be no cool visual design on our perspectives.
A long time ago, people climbed mountains as the only way to see the city below; they launched themselves up in hot air balloons to observe the countryside; then, they flew airplanes and satellites over enemy territory for tactical warfare advantage. We've always sought an aerial view to gather a different perspective of our collective selves. Now, although the perspective from data might be different in scope, it's similar in its ability to provide a collective view as well. This time, with the help of analytics and cool visualizations.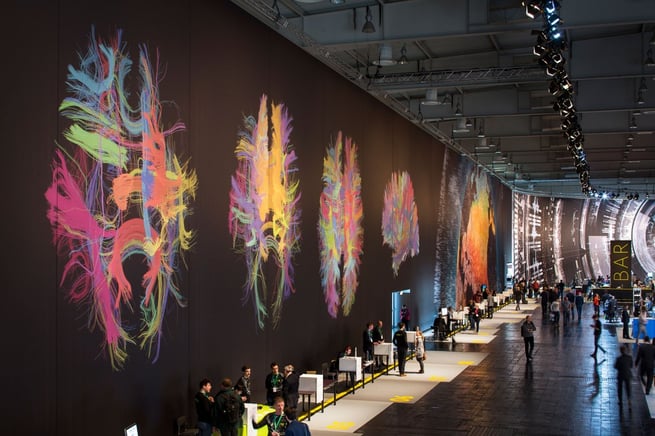 With immense amounts of data, rather than soaring above the earth, we are now moving inwards, learning how we act in and around our connections. As if peering into those once-popular transparent ant-farm colonies as toys, we can see inside our behavior. And what's interesting is this inspection is not necessarily business intelligence. Why not? Because BI demands a question, or even a structured query. With an unstructured analytical mindset, you can almost wait for the answers. Like when you were a child, for example: you didn't always know the questions to ask, but you could really understand the ants if you just watched them.
Today, you cannot get this next gen analytical view unless you get as much data as possible with the widest possible view. With more and more data, we're constantly outgrowing new mountains, balloons or satellites.
CeBit and Code_n Superstars
Clearly, the data is what shone bright this year at CeBit. But we do have some other winners that we think honor it well. So, which companies from CODE_n really got it?
All the companies had their own special something – but I did find three companies that truly emphasized the data for their project. To me, they grasped the most important element of understanding how data, visualization, and human impact make for a great idea and a promising business.
MarineExplore (www.marinexplore.com): Recognized for the most important real-world use of planet Earth using data. From Estonia and Sunnyvale, California, they are changing the way data sets and people use and manage ocean sensor data.
Soma Analytics (www.soma-analytics.com): Recognized for deeply caring about the mental resilience of employees and doing something about it. They use biometrics and emotional data algorithms to track higher risk people who experience major stress – and even have an app that monitors how you toss and turn in bed at night.
Swan Insights (www.swaninsights.com/the-datagraph/data-sources): Recognized for using data wisdom and endeavoring to get equal time for data sources over data visualization. Bonus points awarded for cool graphs with stunning designs and color.
Takeaways from CODE_n
1. The visualizations of the future can be seen today – just look at how your brain, planet Earth, or how relationships form into one big vortex of that observable "un-question."
2. It's not big data anymore. It's much more than that.
3. Without data, you've got nothing. More is better. But the data you choose to sort out represents the real business value.
4. Three companies really get it: Marinexplore, Soma Analytics, and Swan Insights. Congratulations for caring about data and doing cool business.