The process of buying any enterprise software can be confusing, and trying to choose the best data integration software for your organization is no different. Check out our infographic below to help navigate through the process.

The infographic lays out the questions to ask at each stage of choosing a data integration tool, so you can make the right choice for your business.
Establishing your needs
Make sure you have a clear idea of what you want to achieve with your data integration tool, and what your critical business criteria are.
Creating your vendor shortlist
The questions to ask yourself, and your potential suppliers, to ensure you get the best solution for your organization.
Your resources
A simple-to-use visual tool, or a fully featured, more customizable platform? Making sure your choice fits your organizations skill and resource level.
Implementation
How to minimize the pain of a software implementation and how to get the most value out of your chosen data integration vendor.
Want to know more? Read our blog post Choosing data integration software: 8 essential questions to ask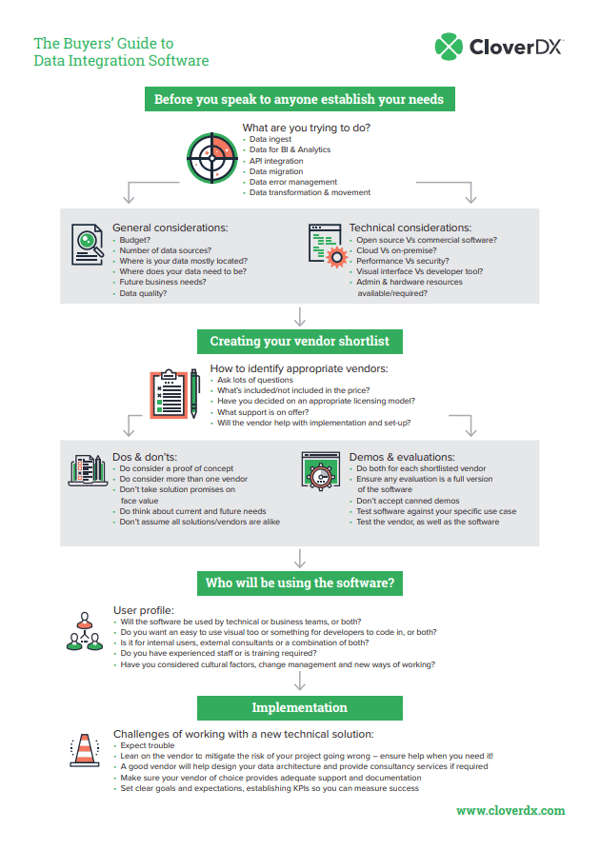 Download the PDF version: Infographic: The Buyers' Guide to Data Integration Software